Equity crowdfunding comes in two forms: Investor-led or Company-led. The former creates investor-led syndicates and has important
financial benefits for investors whereas the latter benefits companies by providing cheaper money with less stringent due diligence. Investor-led platforms such as AngelList and SyndicateRoom create syndicates around lead investors who negotiate the investment terms with the company, invest their own money and then allow online investors to join the syndicate of investors. Company-led platforms such as Crowdcube and Seedrs are marketplaces for companies to raise finance on their own terms. Companies will naturally push to get the best possible valuation for themselves coupled with as limited rights as possible for investors. Depending on which side of the fence you are on (investing or raising finance), one model will be better than the other for you. This great article by Stephen Wilmot sums up the differences – 'one model is for fun, the other for investment'.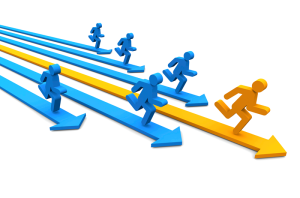 Investor-led platforms such as AngelList and SyndicateRoom only list companies that have investors leading the funding round by putting their own money in, giving online investors a degree of peace-of-mind. AngelList syndicates put a big focus on the lead investor and who they can bring in to the round. SyndicateRoom focuses on the merits of the investment opportunity, just adding the peace-of-mind that well-known investors are leading the round. The vision for both companies is remarkably similar – to give online investors access to the top deals the professionals are investing in offline. Online investors gain access to a previously unknown and inaccessible world to them – investing in the same companies as the professionals and under the same economic terms (although on AngelList they will pay a carry on their profits). This means that online investors will have access to professional-grade investor protections, to the same valuation that was negotiated and will have the same rights in following their money in later rounds, avoiding excessive dilution.
Company-led crowdfunding platforms such as Crowdcube and Seedrs are mainly marketplaces for startups to pitch for funding. This works well for startups that could not find lead investors or for startups where the crowd is not investing under the same terms as the lead investors (for example, the crowd may get 'B' class shares). Startups can choose their own investment terms, including valuation. However as Richard Farleigh's very compelling post "Your idea has no value" explains, startups are worth a lot less than most people think, especially entrepreneurs. Without the right valuation, crowd investors will fail to get the right returns from the successful companies that allow experienced investors to make a tidy profit after covering the losses that they will inevitably shoulder from other deals. Some platforms allow the crowd to make a different offer (at an alternative valuation), which could partially offset the problem. Company-led platforms work very well for startups though – for the same amount of money startups can give a much smaller percentage of their equity away and due to company-led's less stringent selection process, it's not a surprise that there are far more startups to choose from for investors.
All in all, the best model for you will ultimately be dependent on what are you trying to do: company-led platforms allow entrepreneurs to raise cheaper finance, whereas investor-led platforms allow investors to invest under better terms and in better-researched companies.